Massachusetts DMF biologists say one of the great white sharks tagged with electronic tracking equipment last summer off Cape Cod has traveled as far as north Florida (50 miles off Jacksonville). Officials said Wednesday that the tag popped off the shark on Friday and began transmitting data by satellite.

Scientists expect tags on the other sharks to surface and begin sending data later this winter and in the spring.
Under a project led by Division of Marine Fisheries (DMF) Senior Biologist Greg Skomal, DMF biologists placed electronic tags on five great white sharks in waters off of Chatham in September. At midnight on Friday, January 15, one tag surfaced 50 miles east of Jacksonville, Florida, and began transmitting data. The tag, which collects and records water temperature, depth and light levels to help scientists determine where a shark travels, will transmit data for several days using satellite-based technology. -- MyFoxBoston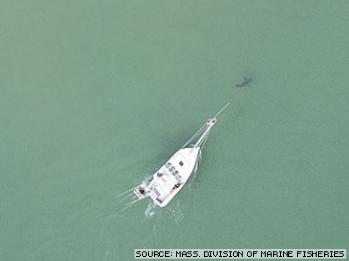 Last year was a big year for Great White Sharks off Chatham:
Sharks were sighted inside Chatham Harbor, 15 yards off North Beach Island and near Lighthouse Beach - CapeCodTimes
Summer resident gets photo of a shark attacking a seal off Nauset Beach - CapeCodTimes
MA DMF: Area where sharks were spotted and tagged during four days in September - MA DMF
MA DMF: 2009 White Shark Tagging off Chatham, Cape Cod - MA DMF
Several great whites were spotted during September of 2009. The sharks ranged in size from 8 feet to over 15 feet.
Hat tip to 2009 Great White Shark Season Wrap Up for the links.
---
---
You are viewing: The Cape Cod Daily Blog
Sponsored Content