Siobhan Magnus loves scary movies, is a "babysitter extraordinare," and is a glassblowing apprentice. If all goes well for the Barnstable High graduate, she could also be the next American Idol. Siobhan is the singer in a band called Lunar Valve (see video). We'll see if she turns out to be the quirky contestant the producers let into the top 24 or if she's merely Hollywood fodder.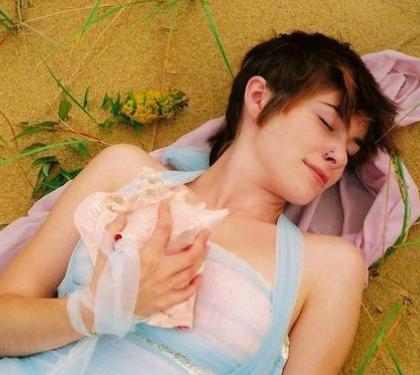 American Idol Interview: Video
American Idol contestant Siobhan Magnus performs a song called "Poor Wandering One" from a Fall 2006 production of "The Pirates of Penzance" by the Barnstable High School Drama Club.
A poor quality video of Siobhan Magnus' band Lunar Valve at Sandwich Taverna. She sings at about 3:30 minutes in.
Siobhan Magnus considers herself a "babysitter extraordinaire." If all goes well for the Barnstable High graduate, she could also be the next American Idol.

Last summer, Magnus made the trip to Boston where she was among several thousand people waiting to audition.

Lending support were close friends and fellow BHS grads Brendan McNamara, Stephanie Gianno, Gianno's brother Greg, and various members of her family, including her mother, father, a sister, and an uncle,

Magnus got her chance to impress Idol judges Simon Cowell, Victoria Beckham, Randy Jackson, and Kara DioGuardi.

According to the Jan. 12 premiere of the show, it worked and Magnus was given a coveted golden ticket. She had passed the first round of auditions and would be traveling to Hollywood to continue competing.

Though Magnus's audition performance wasn't part of the two-hour kickoff show of AI Season 9, the scores of fans watching from televisions across Barnstable (and the Cape) were able to catch a glimpse of the rising star sharing her excitement with family and friends at the show's end -- source: Barnstable Patriot

Siobhan Magnus links: Myspace | Facebook | American Idol interview
Good Luck Siobhan!!
---
---
You are viewing: The Cape Cod Daily Blog
Sponsored Content