The revelation by the Dr. Leung at National Jewish Health in Feb if 2018, that many skin issues are caused by a altering of skin lipids-a skin barrier that protect and locks in moisture, was validating to the success of the Mother and Daughter team of CapeLilly and their Saltysoaps. Lilly and Mary Craven sell their beloved SaltySoaps across New England, through farmers markets and notably the Christmas Tree Shop stores.

"It is the first time my husband has slept in 20 years," was just one comment overheard in their most recent market. "I would do a commercial for your company" and "my dry skin is dry no more" are examples of the cult following and rapid success this duo has created across their audience. SaltySoaps tapped into the amazing benefits of CapeCod Sea salt as a way to rid their own families skin issues.

"I have been diabetic for 35 years, and that brings on a host of dry skin issues, like eczema. We truly started making recipes to help our own skin conditions," stated Mary, the Mom of the duo. Daughter Lilly became the formulator, researching herbs known for their skin benefits. "We incorporate remedies that have been passed down for generations, plus look at any natural compound that had substantial data regarding topical absorption. The most notable research came from the many benefits of magnesium in sea salt, and how sea salt acts as a barrier locking in skin's moisture. Every ingredient in our soap bars and skin care products is natural with some anecdotal or clinical testing of it's skin benefits," stated Lilly.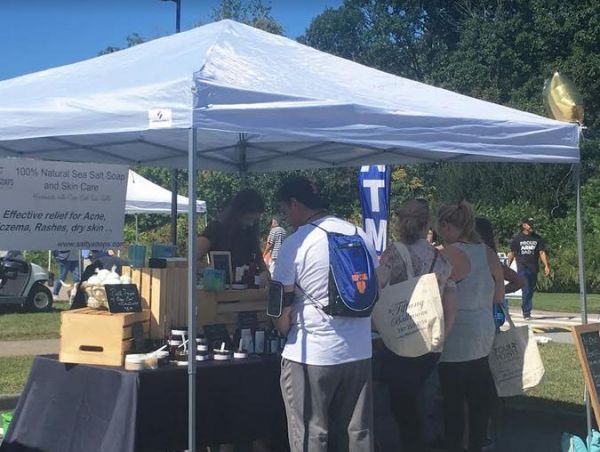 That approach led to their most popular soap bar, "The Works," suitably named for its range of beneficial ingredients. "all of our bars are helpful to skin but this particular bar has many herbs and spices, known for their anti microbial properties, as well as a large amount of Cape Cod sea salt. "We get photos from customers showing amazing difference in their skin. The high amount of sea salt we use, plus ingredients like turmeric and green tea really make the difference," added Lilly. The team tested at least 100 different combinations before coming up with the exact recipe. Besides The Works, CapeLilly offers a variety of other "SaltySoaps" including one made with the fragrant roses that grow local on Cape Cod, a charcoal bar for acne prone skin, and a hibiscus bar for aging skin. But creating a bar with such a high percentage of sea salt has had its challenges. "Different sea salts perform uniquely in the soap making process. We found Cape Cod sea salt to have a similar effect on the process as dead sea salts, so we knew we had to add it, whatever the challenge was!" added Mary. To ensure a long lasting and smooth bar, the salt and dry ingredients are ground into a powder, cold processed then milled, and processed once again. Pure ingredients is also key to the success of CapeLilly. "The Cape Cod sea salts we incorporate are harvested by the evaporation method here on Cape Cod.

You cant get much purer than that," said Mary. The chemical-free skin care line features non GMO and organic ingredients whenever available. The scents are derived from only pure essential oils, which are notably more subtle than commercial fragrances, but offer amazing skin benefits. Will we be seeing CapeLilly at our local drug store? Perhaps, but the team is committed to keeping the products affordable. Buying directly from the maker does have its advantage, as CapeLilly soap bars are only 5.00 and body creams start at 10.00 The sizes are huge compared to specialty store, and the quality is amazing. You can find Capelilly online at www.capelilly.com and at these Cape Cod farmers markets Tuesdays Sandwich and Chatham, Thursdays, Harwich and Sundays at the Brewster Farmers market at Drummers field.
---
---
You are viewing: The Cape Cod Daily Blog
Sponsored Content