JOINT BASE CAPE COD – As the Cadets of the Massachusetts Wing Encampment toured the visiting C-130 of the Rhode Island Air National Guard, Brigadier General Gaglio, Chief of Staff and Air Component Commander of the Massachusetts Air National Guard joined them in greeting Assistant Secretary of the Air Force for Manpower and Reserves, John Fedrigo. Mr. Fedrigo had a chance to speak to many of the Cadets and learn what brings them to Civil Air Patrol, and also share with them some of the benefits the program offers them as they advance in their future careers.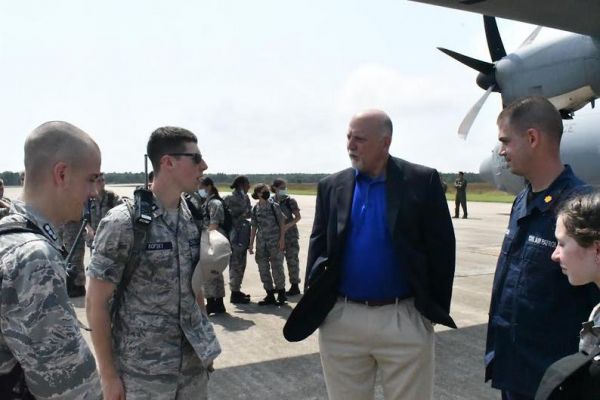 As the Cadets finished their tour, Mr. Fedrigo, took a temporary leave to have a meeting with the 102d Intelligence Wing. This gave 40 of the Cadets an opportunity to take a short flight with the C-130. Mr. Fedrigo then re-joined the Civil Air Patrol Encampment where he attended a presentation on Aviation weather presented by Cadet Lt Col Vigevani. After her presentation, she was "coined" by Mr. Fedrigo. This is a ceremony whereby a superior or dignitary hands a Challenge Coin to another individual.
Encampment is a military-style training environment where Cadet leaders get to test themselves under the watchful eyes of Senior Members while the newer Cadets learn the ins and outs of a military oriented service organization such as Civil air Patrol through the Core Values of Integrity First, Volunteer Service, Excellence in All We Do, and Respect. During the week, the Cadet will have classes on Leadership & Character Development, Aerospace Knowledge, Civil Air Patrol History & Cadet Lore, and a Drug-Free Message, all while living in barracks on Joint Base Cape Cod.
Civil Air Patrol is the longtime auxiliary of the U.S. Air Force and as such is a valued member of its Total Force. In its auxiliary role, CAP operates a fleet of 560 single-engine aircraft and 1,550 small Unmanned Aircraft Systems (sUAS). It performs about 90% of continental U.S. inland search and rescue missions as tasked by the Air Force Rescue Coordination Center and is credited by the AFRCC with saving an average of 82 lives annually. CAP's 66,000 members also perform homeland security, disaster relief and drug interdiction missions at the request of federal, state and local agencies. Operating as a nonprofit organization, CAP also plays a leading role in STEM/aerospace education, and its members serve as mentors to 28,000 young people participating in CAP's Cadet Programs. Visit www.CAP.News or www.GoCivilAirPatrol.com for more information.
---
---
You are viewing: The Cape Cod Daily Blog
Sponsored Content